Monthly Archives:
December 2016
Will you join us in our commitment to children and families? Click here to support WestCoast today. http://www.westcoastcc.org/give/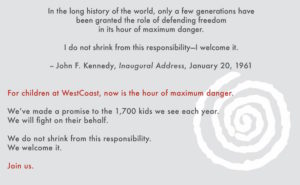 Last Tuesday we hosted a panel, Child Sex Trafficking: Who is for sale and at what cost? at the Oakland Impact Hub. We were privileged to hear from a phenomenal group of women who spoke powerfully about the ways racism and misogyny drive child sex trafficking in the United States. Thank you, Judge Stacy Boulware Eurie, Minh Dang, Holly Joshi, District Attorney Nancy O'Malley, and Malika Saada Saar.
Stacey Katz said, "The sexual exploitation of kids happens because we let it happen — conversely then, we can stop it. But meaningful social change—a true culture shift—takes more than what any one of us can do. It takes a critical mass including you, who are a part of our WestCoast community."
We are grateful to the more than 250 people– survivors, community members, advocates, and providers who joined us last week.
Toward our goal of raising awareness and inspiring action, click here to hear the opening remarks, and have a conversation you wouldn't otherwise have had. Please consider making a donation to support our continued work and direct services.
Much gratitude from all of us at WestCoast Children's Clinic.
Visit www.westcoastcc.org/whoisforsale for resources, including articles written by panelists.